<![CDATA[

This is the latest entry in MLBTR's 2017-18 Offseason In Review series.  Click here to read the other completed reviews from around the league.

It may take some time for baseball fans to adjust to Evan Longoria and Andrew McCutchen in different uniforms, but the Giants are hoping that these two veteran stars can help erase the memory of an ugly 2017 campaign at AT&T Park.

Major League Signings
Tony Watson, RP: Two years, $9MM (includes a $2.5MM player option for 2020 that has a $500K buyout)
Austin Jackson, OF: Two years, $6MM
Nick Hundley, C: One year, $2.5MM
Total spend: $17.5MM
Trades And Claims
Notable Minor League Signings
Notable Losses
Giants 25-Man Roster & Minor League Depth Chart; Giants Payroll Overview
Needs Addressed
No team received less from its outfielders (to the tune of a cumulative 0.8 fWAR and -2.5 bWAR) in 2017 than the Giants, so it was no surprise that San Francisco was connected in rumors to just about every outfielder available in free agency or trade talks.  The major prize ended up being McCutchen, as the longtime Pirates icon was acquired for a pair of notable-but-not-elite prospects (Kyle Crick and Bryan Reynolds), $500K in international bonus pool money and the Giants' willingness to absorb $12.25MM of McCutchen's $14.75MM salary in 2018.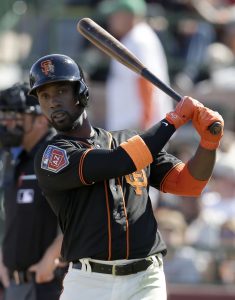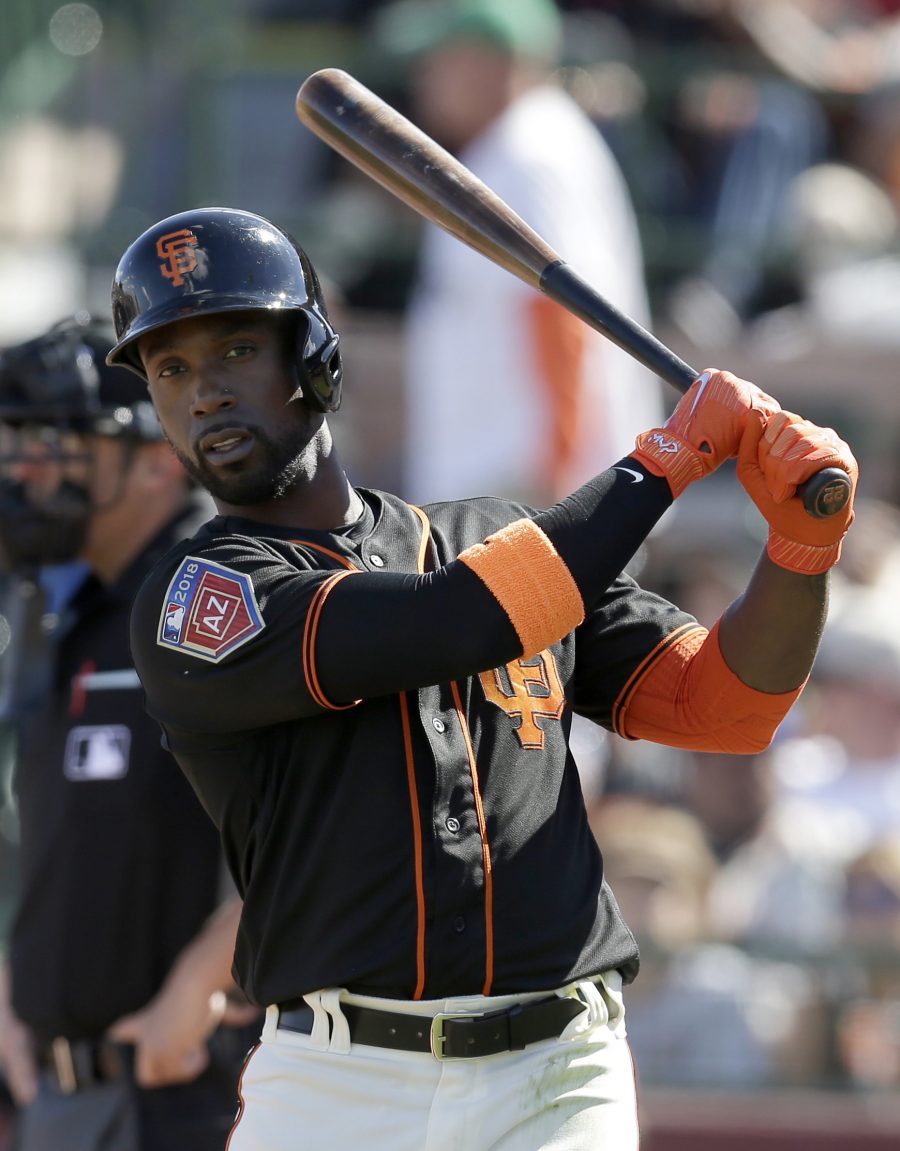 McCutchen's declining defensive numbers as a center fielder won't be an issue, as the Giants have already announced that the former NL MVP will be the everyday right fielder.  (Pittsburgh also intended to deploy McCutchen in right field last season before Starling Marte's suspension forced McCutchen back into regular center field duty.)  The position change should better suit McCutchen's defensive skillset at this stage of his career, and his bat already made a nice rebound in 2017 after a very disappointing 2016 season.  McCutchen is also scheduled to hit free agency next winter, so while the Giants gave up a significant amount for just one year of his services, the club also has the freedom to pursue a longer-term solution if it so chooses after the season.
The outfield depth chart received another boost in the form of Austin Jackson, coming off an outstanding (though quite possibly BABIP-fueled) 318 plate appearances for the Indians last season.  Jackson is currently penciled in for the bulk of time in center field, though he could shift into a general fourth outfielder role if rookie Steven Duggar wins himself a roster spot in Spring Training. Denard Span, the Giants' regular center fielder for the past two seasons, is no longer an option after being dealt to Tampa Bay (in a salary offset situation) as part of San Francisco's other blockbuster deal of the offseason.
Longoria will look to stabilize a third base position that has become another problem area for the Giants, with former third baseman-of-the-future Christian Arroyo serving as the prospect centerpiece of the deal with the Rays.  There are certainly some questions surrounding the Longoria trade, as we'll cover later. The Giants will no doubt be happy if the veteran can at least replicate his 2017 performance (2.5 fWAR, 3.6 bWAR).
Of course, all of that took place against the backdrop of a tough balancing effort of making hefty roster upgrades while staying below the $197MM luxury tax threshold.  With Longoria and McCutchen's hefty salaries joining the ledger, the Giants found payroll space by unloading Span to the Rays, and also by trading Matt Moore and his $9.75MM to the Rangers.
Some more payroll creativity was required to sign southpaw Tony Watson, whose two-year deal only officially guarantees $9MM over three years (if he exercises a player option for the 2020 season) but also allows him to earn more than twice that number by reaching various incentive clauses.  Watson is coming off a bit of a down year by his standards, though given the size of other reliever contracts on the open market this year, he may prove to be a nice bargain for the Giants.  Ultimately, like many teams this offseason, the Giants weren't too active in free agency, only making modest agreements with Watson, Jackson, and backup catcher Nick Hundley.
Notable moves also took place off the field in San Francisco.  President of baseball operations Brian Sabean is again taking more of a hands-on role in the front office's day-to-day moves, while several long-time coaches were shifted either to new coaching duties or into front office roles.
Questions Remaining
Of all the outfielders linked to the Giants, the most notable was Giancarlo Stanton, and the Giants were deep in talks with the Marlins about a trade that would've seen the Giants reportedly covering some or all of the $295MM on Stanton's contract.  While both the Giants and Cardinals submitted offers to Miami's liking, however, Stanton wasn't willing to waive his no-trade protection to join either team, eventually approving a deal to the Yankees.
Needless to say, adding Stanton would've completely changed the Giants' plans.  The club would've had less salary flexibility and might well have abandoned its plan to get under the competitive balance tax entirely.  While one can certainly argue that McCutchen and Longoria at two positions make for more of a help than Stanton at one position, a Giants team with Stanton in right field plus some prospects (Arroyo, Crick, etc.) still bolstering an already-thin farm system and a willingness to exceed the luxury tax threshold might've been better positioned to address remaining needs.  Rather than add Longoria for the long term and McCutchen for the short term, would the Giants have been better off with Stanton as the long-term asset and a third baseman like Todd Frazier (who only found a two-year deal with the Mets) as a shorter-term answer? That was certainly the team's preference, but it wasn't able to convince the superstar to come to San Francisco.
On the other hand, that aforementioned lack of prospect depth could've also been the reason why the Giants weren't able to swing deals for other notable outfielders on the market, like Christian Yelich or Marcell Ozuna.  The Giants also weren't keen on the idea of giving up a draft pick as compensation for signing a free agent who rejected a qualifying offer, such as Lorenzo Cain (who could've solved the center field hole), given the organization's strong placement in the 2018 draft.  Given both of these factors, the McCutchen trade looks like a solid move for San Francisco, assuming that 2016 truly was just an aberration for McCutchen.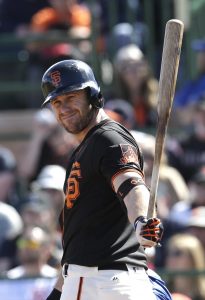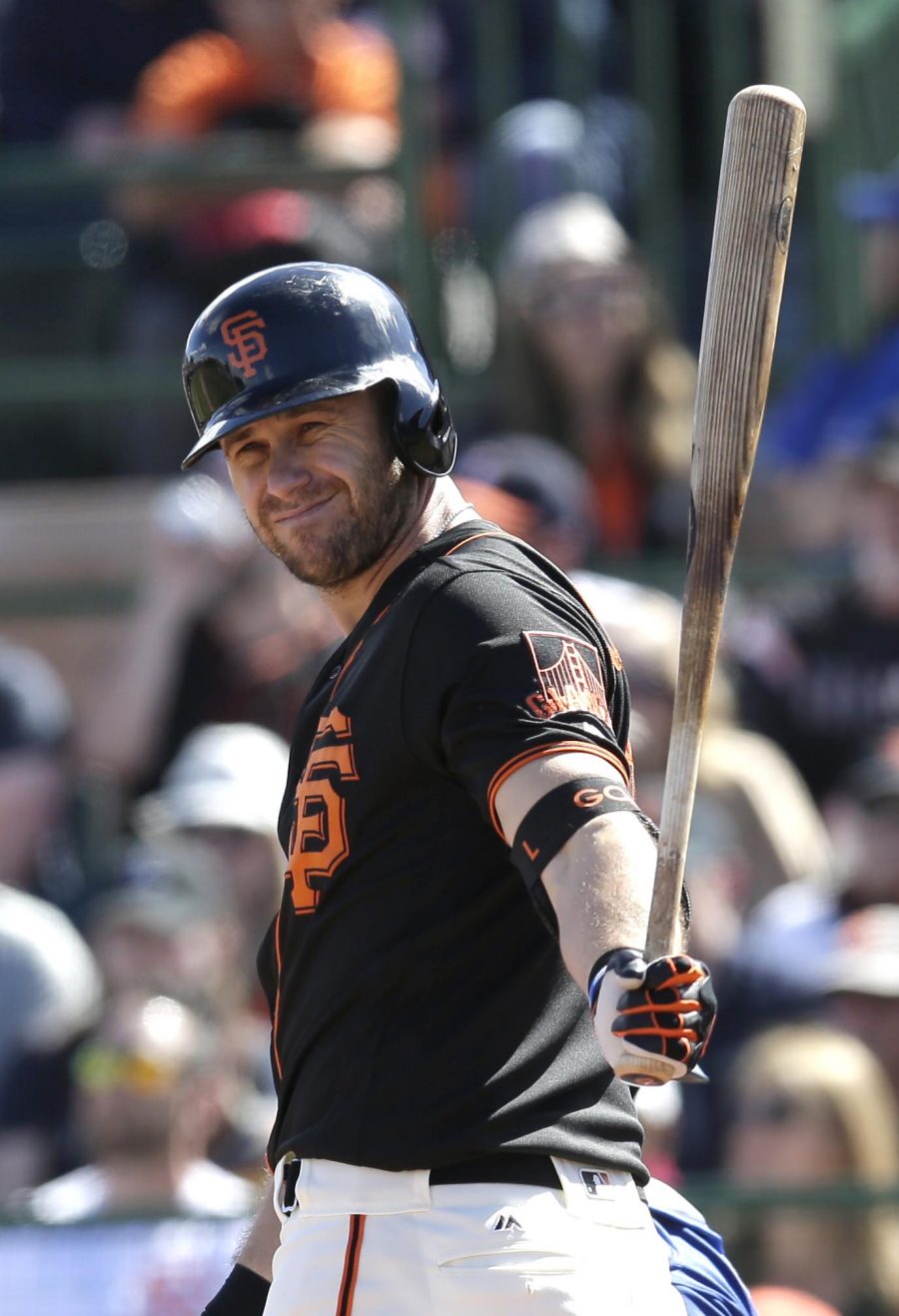 Longoria's situation, though, is a bit more complicated. His 2017 season, which ended with a .261/.313/.424 slash line, represented the first campaign in which he graded a below-average run creator (96) in Fangraphs' wRC+ metric.  He also hit more grounders and fewer fly balls than any other season in his ten-year career.  While still a durable player and a good defender, Longoria could very well be on the decline as he enters his age-32 season.  Though the Rays added some money in the trade, the Giants still owe Longoria $73.5MM over the next five seasons, making him yet another high-priced veteran on the San Francisco roster who is looking to bounce back from a disappointing 2017.  He is something of an odd fit on a team that entered the winter looking to theoretically get younger and cheaper, though the Giants have traditionally been open to adding experienced players and, if anything, feel veteran players may be underrated in the current baseball marketplace.

Though outfield defense was a priority for the team, the planned alignment of McCutchen in right field, Jackson in center and Hunter Pence in left represents only a moderate improvement; while McCutchen should help in right, Jackson's defensive metrics as a center fielder have been at best mixed for several years.  Duggar is widely regarded as a strong defender and he has some strong hitting and on-base numbers in the minors, though he hasn't had much Triple-A (or even Double-A) playing time.  A jump to the big leagues might be a reach unless the Giants are willing to accept Duggar as strictly a glove-only player in the early going.  Gorkys Hernandez, Austin Slater, or minor league signing Gregor Blanco could also see time in center field, though none are optimal options. Presumably, McCutchen could get the occasional start in a pinch.

Moore suffered through a very rough 2017 season, so the Giants may have felt the $9.75MM ticketed for the left-hander was better utilized elsewhere rather than hoping that Moore could rebound.  His departure, however, leaves the team with a lot of inexperienced pitchers battling for two rotation spots rather than one.  Ty Blach and Chris Stratton are the favorites to be the fourth and fifth starters, with rookies Tyler Beede, Andrew Suarez, Tyler Herb, Joan Gregorio also in the mix, and veterans Derek Holland and Chris Heston in camp on minor league contracts.

Were the Giants not already so close to the $197MM tax threshold, another veteran starter (even a mid-tier name, not of the Jake Arrieta/Lance Lynn/Alex Cobb class) would be a big help, though a price fit simply doesn't seem possible unless the Giants could move salary elsewhere.  With this payroll crunch in mind, the Giants were surely disappointed to fall short in their pursuit of Shohei Ohtani, as San Francisco was one of seven finalists for the Japanese two-way star before he eventually signed with the Angels.

Watson ended up being the only significant addition to a bullpen that struggled overall last year, though a healthy Mark Melancon would go a long way towards improving matters.  The plethora of young starters that miss out on the rotation battle could also provide some further depth behind Melancon, Watson, Sam Dyson, Hunter Strickland, Cory Gearrin, and Steven Okert.  Rule 5 draft pick Julian Fernandez is also in the mix but a total wild card, as he has never pitched above the A-ball level.  Veteran lefty Will Smith is targeted to return in May or June after undergoing Tommy John surgery almost a year ago.

Overview

While the Giants are clearly planning to contend in 2018, this season could also serve as something of a bridge year for the franchise.  Come next winter, the Giants will have McCutchen and Pence off the books, be free of a recurring luxury tax penalty, and be positioned exceed the threshold in pursuit of expensive free agents (such as Bryce Harper?) or trade chips.  By then, the club should also have more of an idea of what it has in younger talents like Blach, Stratton, and Duggar, or even more-established players like Joe Panik.  The Giants may also have advanced further in extension talks with ace Madison Bumgarner. A total rebuild doesn't seem likely even in the event of another 98-loss season, though the Giants would surely look to move some veterans at the trade deadline.

Despite this uncertainty, San Francisco still went ahead to further bolster its veteran core, and Longoria and McCutchen should provide quite a bit more value than Span and Moore did last season (or are likely to provide this season).  The Giants have left themselves with very little luxury tax room to maneuver for upgrades at the trade deadline, though the team still has its upper crust of prospects — Heliot Ramos, Beede, Chris Shaw — to offer if a big acquisition is required.

Rather than the start of a decline period for a veteran team, 2017 could potentially be seen as simply a perfect storm of fluke injuries (especially Bumgarner's) and subpar performances — if, at least, the team's veterans can return to their 2016 form.  Between McCutchen, Longoria, and the low-cost free agent signings, the Giants might have filled all the holes they need to fill, provided some of their younger players can step up.

What's your take on the Giants' winter?  (Link for app users.)

Photos courtesy of USA Today Sports Images

]]>