<![CDATA[

The 2017 season was the second straight sub-.500 showing by the Pirates, who finished 75-87 and continued to distance themselves from a 2013-15 stretch in which they made the playoffs three straight times. It has now been three-plus months since the Pirates last took the field, though it's not yet clear which direction they'll take heading into 2018. While owner Bob Nutting would like to both buy and sell this winter, the Pirates have neither acquired any established major leaguers nor traded any away during what has been a plodding offseason across the majors. With spring training set to commence next month, action figures to pick up soon in Pittsburgh and other big league cities. If the Pirates do indeed sell players in the coming weeks, they have at least a few who would garner respectable returns, as evidenced below…

One-Year Rentals

Andrew McCutchen, OF ($14.5MM): Getting rid of McCutchen would be agonizing for the Pirates, who have seen the center fielder develop into a star and a beloved figure in their city since drafting him in 2005. Nevertheless, considering the Pirates have taken inquiries for him this winter a year after nearly trading him, it's quite possible he has played his last game with the club. Given that he's entering his last year of team control, McCutchen's value now is likely higher than it's going to be during the season. And the 31-year-old helped his stock in 2017 by hitting .279/.363/.486 with 28 home runs in 650 plate appearances, thus rebounding from a mediocre 2016 at the plate.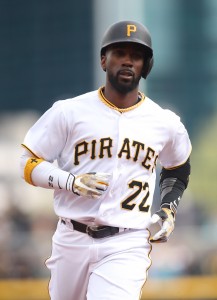 While McCutchen isn't any kind of a defensive asset at this point, his bat still carries plenty of value, which has led to interest from the Mets and Giants. Getting McCutchen's money off the books would appeal to the low-payroll Pirates, but that alone wouldn't suffice – unsurprisingly, they also want a legitimate return for their longtime franchise face.
Jordy Mercer, SS ($6.5MM projected arbitration salary): The Pirates are reportedly content to keep the 31-year-old Mercer, who likely wouldn't bring back much in a trade anyway. Mercer's a lifetime .256/.316/.383 hitter who has only drawn up-and-down reviews from advanced defensive metrics since he became a regular in 2013.
Sean Rodriguez, UTIL ($5.75MM): Rodriguez was part of an August 2017 trade with the Braves in which he returned to the Pirates for struggling first base/outfield prospect Connor Joe. If Rodriguez's value was low then, it's in an even worse state now, given that he closed the season by hitting .168/.255/.274 in 106 PAs in Pittsburgh. Between the Braves and Pirates, Rodriguez batted an ugly .167/.276/.295 and struck out in 37.3 percent of PAs. In fairness to Rodriguez, it's worth noting that an offseason car crash and the shoulder surgery he underwent thereafter likely played a part in his forgettable year.
Daniel Hudson, RHRP ($5.5MM): The hard-throwing Hudson didn't produce to the level the Pirates hoped when they signed him as a free agent last winter, as he logged a 4.38 ERA with 9.63 K/9 and 4.82 BB/9 across 61 2/3 innings. More than half the league showed interest in Hudson in the weeks before he joined the Pirates, though, and that was off a season in Arizona that came with some rough patches. So, perhaps Hudson would be able to bring back something of a worth in a trade in the wake of last year's unspectacular output.
Two Years Of Control
Francisco Cervelli, C ($22MM through 2019): Cervelli was a revelation for the Pirates in 2015, leading them to extend him the next year, but he hasn't been nearly as effective recently. Injuries helped limit Cervelli to 182 games during the previous two seasons, including 81 in 2017. While Cervelli, 31, slashed a respectable .249/.342/.370 in 304 trips to the plate to continue a solid offensive career as a Buc, the excellent pitch framing he showed off in prior years was not on display. Now, considering Cervelli's price tag, injury issues, 2017 defensive drop-off and the lack of contenders looking for a starting catcher, this doesn't seem like the ideal time to move him. Interestingly, though, Rob Biertempfel of the Pittsburgh Tribune-Review suggested that there were some trade rumors about Cervelli during the Winter Meetings last month.
Ivan Nova, RHP ($17MM through 2019): The unexpected success Nova experienced as a Pirate in late 2016 after coming over in a trade with the Yankees didn't quite transfer last year. Still, in the first season of a three-year, $26MM deal, Nova ate innings (187) and posted a playable 4.14 ERA with 6.3 K/9, 1.73 BB/9 and a 45.7 percent groundball rate. On one hand, you'd expect plenty of teams in need of a capable back-end starter to have interest in the reasonably priced 30-year-old if the Pirates shop him. On the other, we were among many around the game to overestimate his market when he was a free agent in a weak class of starters a winter ago.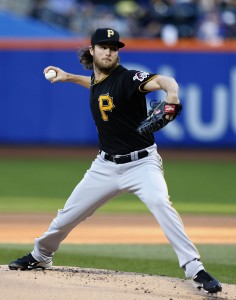 Gerrit Cole, RHP ($7.5MM projected salary): As a Scott Boras client whose team control is running out, it seems to be a matter of when – not if – the Pirates trade Cole. The 27-year-old fireballer has drawn widespread interest this offseason from teams seeking a mid-/front-of-the-rotation starter. The Yankees, Cubs and Twins are among many clubs that have inquired about Cole, who'd very likely bring back an impressive haul in a deal.

David Freese, 3B/1B ($4.25MM in 2018 and either a $6MM club option or a $500K buyout in 2019): There hasn't been much trade buzz this offseason regarding Freese, who may lose playing time in Pittsburgh in 2018. The soon-to-be 35-year-old offered unexciting production for the fifth straight year in 2017, when he hit .263/.368/.371 in 503 PAs, though a roughly average player on an affordable salary shouldn't be seen as valueless.

George Kontos, RHRP ($2.7MM projected salary): There doesn't seem to be much value here – the Giants gave Kontos to the Pirates for nothing last August, after all – yet the 32-year-old has held his own in the majors. Kontos' ERA ranged from 2.33 to 3.39 from 2014-17, and he has typically limited free passes in his career (2.62 BB/9). Further, while Kontos was a below-average strikeout pitcher in past seasons, he did register a career-high 9.5 K/9 and a personal-best 16.4 percent swinging-strike rate in 2017. He also recorded a .269 xwOBA against, beating out newly minted $52MM man Wade Davis (.289), among others.

Longer-Term Assets

Gregory Polanco, OF (controllable through 2023 for $54MM): Hamstring injuries helped limit Polanco to 108 games and just 0.5 fWAR in 411 PAs last season, when he batted a meager .251/.305/.391. While the 26-year-old has never been an offensive dynamo, his baserunning, defense and contract have combined to make him a valuable player. Barring a shocking trade, he'll attempt to bounce back in Pittsburgh next season.

Starling Marte, OF (controllable through 2021 for $41.5MM): Marte was among the most valuable assets in the sport from 2013-16, when he hit, ran and defended his way to 16.4 fWAR, but the shine came off to a degree last season. Not only did Marte sit 80 games on account of a suspension for performance-enhancing drugs, but he wasn't any kind of force during the 77 contests in which he did appear. The 29-year-old hit a career-low .275/.333/.379 and experienced a dramatic decline in the power department, which has never been a major strength for him anyway. Like Polanco, though, there's nothing to suggest the Pirates are interested in moving Marte or his still-appealing contract.

Josh Harrison, UTIL ($10MM salary in 2018 and club options totaling $22MM from 2019-20): As with McCutchen and Cole, Harrison has been a popular name in rumors this winter. Perhaps the Pirates should part with the 30-year-old Harrison now, given his recent inconsistency. Harrison broke out in 2014, but he followed that up with subpar showings from 2015-16 before rebounding to enjoy a quality season last year. The Yankees, Mets and Blue Jays are a few clubs that have pursued the infielder/outfielder this winter.

Felipe Rivero ($3.1MM projected salary; controllable through 2021): As an elite, flamethrowing reliever who's under wraps for the foreseeable future, the left-handed Rivero is clearly one of the most valuable players in the Pittsburgh organization. The 26-year-old is now coming off the best full season of his career, during which he tossed 75 1/3 innings of 1.67 ERA ball and notched 10.51 K/9, 2.39 BB/9 and a 52.9 percent grounder rate. Rivero also converted 21 of 23 save chances, and if he remains in the ninth inning for the Pirates, it's only going to drive up his price in arbitration. There is a case to be made that the Pirates should shop Rivero now when his value's at its zenith, especially if they don't expect to compete in 2018, though it seems highly unlikely to happen.

While Jameson Taillon, Josh Bell, Adam Frazier, Chad Kuhl, Trevor Williams and Tyler Glasnow are among other Pirates with trade value, there's no reason to expect the team to market any of those pre-arb players.

Photos courtesy of USA Today Images.

]]>