Notable Minor League Signings
Notable Losses
Needs Addressed
After turning in a solid, Wild Card-winning campaign in 2017, but facing a difficult task ahead in a strong NL West division, the Rockies largely elected to utilize the open market to address their key needs. The result was a fairly straightforward path that resulted in several (relatively) early investments as much of the market stalled. With a focus on re-loading the relief corps — the one area of free agency that did follow a generally typical path in a strange winter — the Rox ended up as one of the more active spenders in the game.
Before getting underway with the relief unit, the Rockies addressed their need for a backstop. The club pursued Jonathan Lucroy, who had a solid late-2017 run in Colorado, but moved on when he did not bite at the team's three-year offer. Instead, veteran Chris Iannetta secured a somewhat larger-than-anticipated promise, though the annual rate falls in line with what quality non-regular receivers have earned in recent years. Iannetta is coming off of a strong showing with the division-rival Diamondbacks, though at 35 years of age it's reasonable to anticipate he won't quite perform to the same level offensively (.254/.354/.511 with 17 home runs in 316 plate appearances). Iannetta won't be pressed into everyday duties, anyway, with Tony Wolters expected to share time and the still-interesting Tom Murphy also still in the organization.
With that decision out of the way, the Rockies turned to addressing the openings created when a notable trio of relievers departed at the end of the 2017 season. Closer Greg Holland turned down both a player option and a qualifying offer, thus joining southpaw Jake McGee and mid-season trade acquisition Pat Neshek on the open market.
The Rox ended up striking Winter Meetings deals with both McGee and sturdy late-inning hurler Bryan Shaw. Both took down rather hefty guarantees ($27MM apiece) on three-year terms. Those contracts beat expectations, but did not seem entirely out of place in a bullpen market that came out of the gates hot.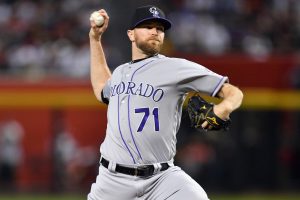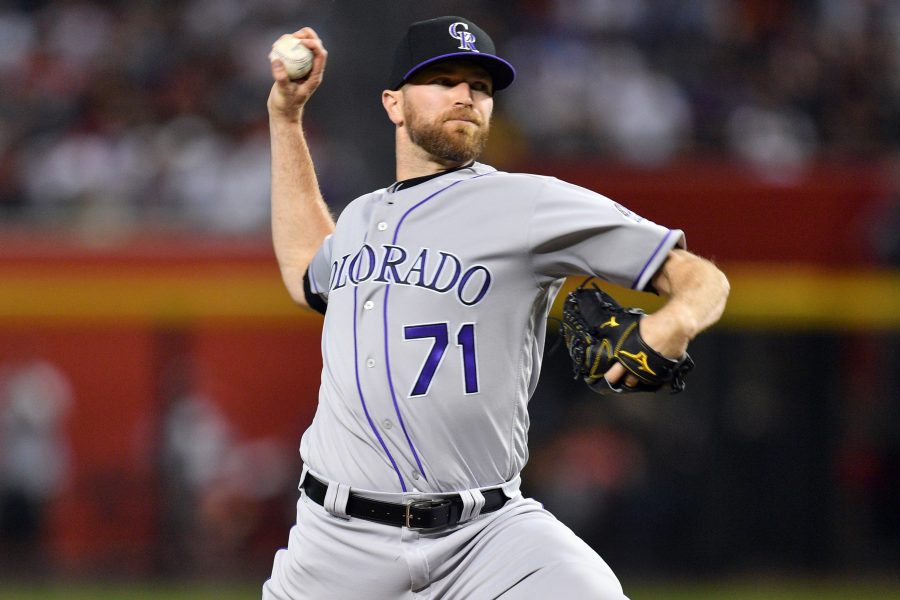 Colorado nearly came away from the Swan and Dolphin resort with three pen additions, as the team reportedly made progress on a deal to bring back Holland as the meetings drew to a close. Those talks fizzled out, however, leaving the Rockies to line up a deal — at a reputedly similar price to what had been dangled to Holland — with top free-agent closer Wade Davis. He's earning at a record annual rate for a reliever, but it was nice to get him on a three-year term when it long seemed four were likely. Davis seems the better bet than Holland, so it all worked out for the Rox, though the club surely wouldn't have minded lucking into Holland on a one-year deal instead, as the Cardinals did.
After plunking down $106MM in total commitments to those three relievers, the Rockies seemed likely to turn to another area of uncertainty: first base. The Ian Desmond experiment did not really work out last year, and he seemed better situated to taking residence in the corner outfield with Carlos Gonzalez hitting free agency. Mark Reynolds, who took the bulk of the action at first in 2017 and performed solidly, was also back on the open market and was one of several cheaply available possibilities. While quality prospect Ryan McMahon loomed, finding a complement to his lefty bat (if not a higher-end player) appeared to be the next item on the list.
While there was evidently some chatter with Reynolds, however, the team never ended up adding a right-handed-hitting first baseman. Instead, after a long transactional lull, GM Jeff Bridich lined up a fairly surprising reunion with Gonzalez, who faced a difficult market situation after a substandard 2017 season. His re-signing was welcomed by the clubhouse, but also creates some questions as the season gets underway.
Questions Remaining
The Rockies know Gonzalez better than anyone, and they obviously feel he has more in the tank at 32 years of age. He'll earn less annually (up to $8MM) than any of the three just-signed relievers, but on only a one-year commitment, and the price doesn't feel too steep for a player of his established ability level. It prices in CarGo's ceiling as well as his injuries and poor 2017 production.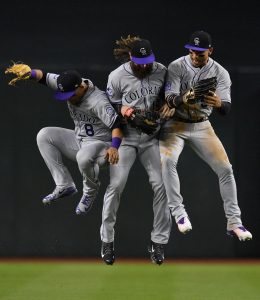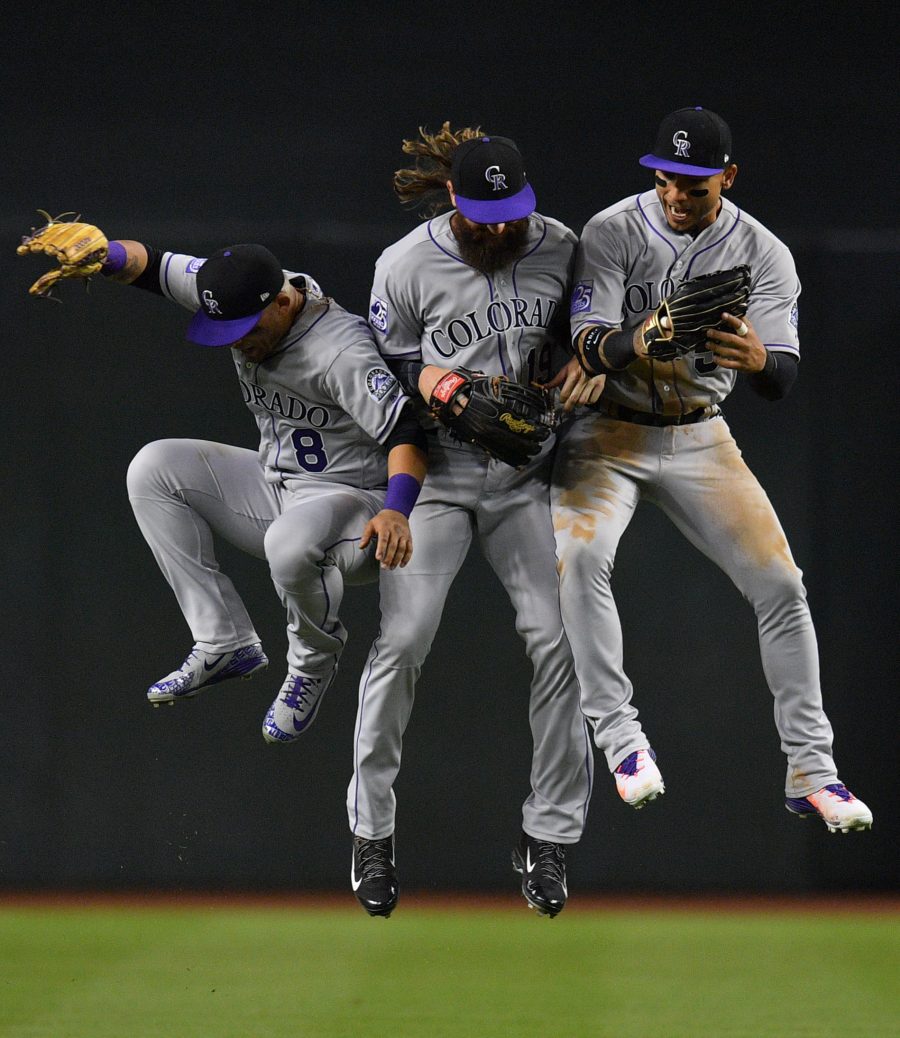 Still, it's rather a curious fit, because the Rockies are loaded with lefty outfield bats. Star Charlie Blackmon is locked into center for the coming season, though he'll test free agency at year end unless the sides come to a new deal during the coming campaign. Gerardo Parra was already slated for something like semi-regular duty after a nice bounceback season. Highly regarded youngsters Raimel Tapia and David Dahl are also options along with Mike Tauchman.

As it turns out, there are four southpaw swinging outfielders on the roster to open the year, with Desmond shifting back to first base. While the general talent level is fine, it's an extremely awkward alignment. Blackmon is obviously going to play every day, but the corner rotation looks hapless against left-handed pitching. Gonzalez and Parra both have sizable platoon splits over their careers; Tauchman hit lefties well last year in a small sample (101 plate appearances) but has otherwise been far better with the platoon advantage in the upper minors.

To be sure, the Rox could end up acquiring or promoting another righty bat to take a fourth outfielder role. Noel Cuevas is perhaps the top internal option after Desmond. Even if that comes to pass, it doesn't make further sense of the decision to splurge on Gonzalez. Barring injury, Tapia and Dahl are now largely buried at Triple-A for the season to come, despite the fact that both have already shown the ability to perform at the game's highest level.

Meanwhile, the club has Desmond locked into most of the time at first. When he was first signed to play there, the decision was hard to comprehend. Desmond, after all, generally profiled as a solid-but-streaky hitter, great baserunner, and good defender with lots of versatility. Plugging such a player at first base never made loads of sense, but it seemed the Rockies might at least utilize him elsewhere in the future. Using Desmond as a much-needed right-handed-hitting outfielder while investing the $8MM CarGo cash elsewhere made quite a lot more sense on paper. Indeed, given the glut of sluggers, the Rockies easily could have found a player with superior offensive chops to Desmond while saving the bulk of the money for any mid-season needs that might arise. The resulting roster would have been more cost-efficient and much better positioned to take advantage of platoon advantages. Unless the Rockies are all but certain — despite the evidence to the contrary — that Gonzalez is primed to return to being a premium bat, the decision to utilize those funds on the former star is about as perplexing as the move for Desmond was last winter.

Of course, the Colorado organization was able to reach the postseason despite the rough showing from Desmond last year. And perhaps there's still reason to hope he can be a part of an otherwise quality infield unit. Nolan Arenado remains one of the game's best all-around players, while DJ LeMahieu is a good option at second entering his final season of team control. There's a bit more uncertainty in the rest of the unit. At short, Trevor Story seems a likely bet to provide quality glovework — UZR has rated him as average, DRS as excellent — though his offensive output remains in question. Story burst on the scene with 27 home runs in just 415 plate appearances in 2016, but he dropped back to 24 dingers in 555 trips to the dish last season — and also went down on strikes 34.4% of the time while sporting an ugly .308 on-base percentage. Iannetta and Wolters aren't a terribly exciting pairing behind the dish, but Murphy perhaps still offers a bit of upside if Wolters again lags at the plate.

The new Rockies relief unit looks to be quite a good one. While there's ample risk in the lengthy, high-dollar contracts that were required to land the team's late-inning trio, all the pitchers acquired seem likely to be productive, at least in the near term. Adam Ottavino and Mike Dunn have plenty of late-inning experience of their own; while each struggled to limit their free passes last year, their power arsenals are still impressive. Lefty Chris Rusin has been a highly useful multi-inning piece, adding a different dimension to the group. And there's some young fire from the likes of Antonio Senzatela (a multi-inning threat after spending most of 2017 as a starter), Carlos Estevez (who'll open on the DL but has big-time raw stuff), and Jairo Diaz (who's still trying to iron things out in the minors). There isn't much established depth beyond that group, as non-roster invitee Brooks Pounders is the only other reliever in the organization with MLB experience.

And that brings us to a rotation that did not require offseason tweaking, but isn't loaded with certainties either. Whether Jon Gray will continue to improve remains to be seen, but he's a quality front-of-the-rotation starter as-is. German Marquez emerged with a very strong 2017 effort at just 22 years of age, when Kyle Freeland showed an ability to get grounders and good results in the majors, though neither has a long track record at the game's highest level. It has been a bit of a rollercoaster for Tyler Anderson, whose first start of the new season was a mess, but he could be productive if he can tamp down on the long balls. Righty Chad Bettis will look to get fully back up to speed after making his return from testicular cancer in 2017.

It's tough to see that five-man unit ending up as one of the best in the National League, but it could well be good enough to support another postseason run. Senzatela will be available if a need arises, though he may need some time to ramp up to a starter's workload if he's called upon in the middle of the year. It's not exactly promising to see Jeff Hoffman sidelined by shoulder issues, though he could still be a factor. Otherwise, there are four starters on the 40-man roster — Yency Almonte, Zach Jemiola, Sam Howard, and Jesus Tinoco — that all lack MLB experience but could be given a first shot. The Rockies haven't shied away from relying on young arms in recent years, after all, and any of that group could show up in the rotation or pen.

Overview

The Rockies have really extended their payroll in recent seasons. They first pushed past $100MM by the end of the 2015 campaign, reached $156MM by the close of 2017, and now open 2018 with a club-record of just under $137MM on the books. That has helped the club add in some rather expensive complimentary pieces around a core of excellent position players and a cost-effective set of starters. And the results were on display with the nice run last year.

Trouble is, the Rockies are facing stringent competition both in the NL West and in the Wild Card hunt in a top-heavy National League. And the payroll dynamic will soon get tricky as their starters hit arbitration, Arenado reaches his final arb year (at what will surely be a huge rate), and Blackmon and LeMahieu prepare to hit the open market. There's plenty of good young talent still moving toward the majors — to Colorado's credit, they've avoided parting with it via trade — though it may not quite fully arrive by the time these changes occur.

If things don't break right in 2018, and the next round of premium talent isn't quite ready, it could be a bit of an awkward winter. Arenado's situation will no doubt hang over the organization regardless. But that'll all go much smoother if the Rockies play to the level they hope. While there's little question the roster, as assembled, can compete, some of the decisions may not have optimally allocated resources. In particular, the thinking on Desmond and Gonzalez is still a bit difficult to comprehend fully — though the Rockies seem to believe they're best off betting on talent and character. It'll certainly be interesting to see how it all turns out over the course of the 2018 campaign.

How would you grade the Rockies' winter efforts? (Link for app users.)

Photos courtesy of USA Today Sports Images.

]]>