Feb. 18: The Red Sox have announced the signing and designated right-hander Ben Taylor to make room for Nunez. He'll earn $4MM in 2018, and his player option is also worth $4MM (with a $2MM buyout), per Heyman, who adds that the deal includes escalators and incentives. Specifically, Nunez could earn an extra $1MM in 2019 based on number of plate appearances this year and another $1MM in '19 based on performance bonuses, Drellich tweets.

The 26-year-old Taylor was a seventh-round pick of the Red Sox in 2015. He saw his first major league action last season and tossed 17 1/3 innings of 5.19 ERA, notching 9.35 K/9, 4.67 BB/9 and a paltry 26.4 percent ground-ball rate along the way. Taylor was more successful in his Triple-A debut in 2017, albeit over an even smaller sample (13 1/3 frames), as he worked to a 2.70 ERA with 8.1 K/9, 3.38 BB/9 and a 45.5 percent grounder mark.
Feb. 17: Nunez will receive a buyout if he declines the player option, Jon Heyman of Fan Rag tweets.

Feb. 16: Evan Drellich of NBC Sports Boston reports that if Nunez passes his physical and the deal is finalized, the option is expected to be a player option (Twitter link).
Feb. 15. 5:29pm: The sides have a deal in place pending a physical, per Robert Murray of Fan Rag (via Twitter). If completed, it'll be a one-year pact with an option.
Sources tell Rob Bradford of WEEI.com (Twitter links) that it's "premature" to say a deal is being wrapped up, though he notes that may be due to need to take a close look at Nunez's knee.
5:14pm: There's "momentum" toward a deal that would bring infielder Eduardo Nunez back to the Red Sox, according to MLB.com's Ian Browne (via Twitter). Indeed, the organization "could be close" to striking a deal with the versatile veteran.
Nunez, 30, has long been mentioned as a target for the Sox, who could use the depth in the infield and are especially interested in finding a fill-in for the still-recovering Dustin Pedroia. While there's some optimism that the team's long-time second baseman won't miss an extended period to open the year, he has been banged up a fair amount in recent seasons. Plus, the organization is also preparing to rely on the relatively unproven (but plenty talented) Rafael Devers at third.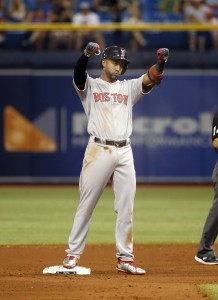 Though Nunez has spent most of his career elsewhere, he made an impression during his stint in Boston after arriving in a trade deadline swap from the Giants. Nunez posted a robust .321/.353/.539 batting line with eight home runs in 173 plate appearances after the deal.
Unfortunately, Nunez was limited by a knee injury that ended up requiring a lengthy rehab period. Indications are, though, that he's back to full strength as Spring Training gets underway.
Clearly, nobody will expect Nunez to continue producing like a middle-of-the-order slugger. But he has unquestionably raised expectations for the offensive side of his game after a tepid showing to start his career. Since the beginning of the 2015 season, Nunez owns a strong .296/.332/.443 slash.
The other elements of Nunez's game are worth noting, too. He has also swiped 72 bags over the past three seasons and generally grades as a quality baserunner. And while he has never graded as a particularly good defender, he is capable of palatable handling of any infield position and has also spent some time in the corner outfield.
 An earlier version of this post mistakenly suggested that Nunez had undergone surgery on his knee. Photo courtesy of USA Today Sports Images.